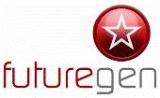 Futuregen was formed in 2006 in Singapore with office address at 1 Fullerton Road #02-01, One Fullerton, Singapore. The company was formed by husband and wife team of Wilson and Jane Chua from the Philippines.
Our contact numbers are: (Singapore)  6618-0588, 6492-3916 and  6492-2918, Mobile 9101-4508 and 9346-7396, (United States), 510-943-4111,(Europe) +33-176633264, (Philippines)+63-75-614-2388
Futuregen started out in IT hardware and solutions distribution. We added to our core competency by branching out to manage ISP, datacenter, Contact Center, and Business process Outsourcing operations.
Futuregen combines business experience in Key knowledge areas to help companies align their resources to meet key business goals. Most companies have key issues that revolves around lowering customer acquisition costs, improving ROI on their CapEX, and converting their IT assets into strategic company assets.
Futuregen's key knowledge areas revolve around consultancy and project implementation support for companies that need help with SEO(Search Engine Strategies), Web Application Hosting(SAS), BPO (Business Process Outsourcing), contact center  and Data Center Management work. Futuregen has success in providing VOIP and Contact Centre Deployment including staff recruitment, training and retention program development work.
We also provide contingent workforce solutions that enable companies to quickly adapt to changing business needs without the necessary fixed overhead of higher headcounts. Our team of highly accurate transcription and data entry operators have carved out a reputation in Asia to help businesses with their needs especially during their peak seasons.
Our team also handles corporate audio transcriptions and other business process outsourcing activities like remote site data entry, data editing and database cleansing. We provide the necessary secured infrastructure to send over the base documents or audio and video files to be transcribed. Our team of QA staff ensure that accuracy is at least 98.5%.
Futuregen's certifications include both IT technical expertise and eCommerce. Our president is a Philippine MVP hall of famer for Microsoft MVP Program, Google Adword Certified Individual, MCSE+I, MCDBA, CCNA, CCDA, Cisco Wireless Lan specialist, EC-Council CEH, Comptia A+, Security+ and  eCommerce certified (WebCEO, ECouncil CEA). We also have PMP and ITIL certification.