Co-produced by :Rebateszone & Futuregen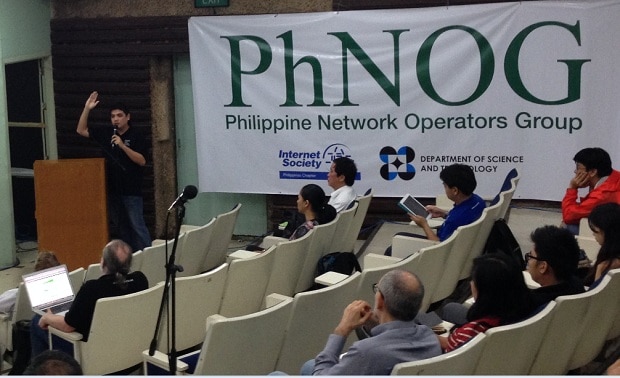 The Department of Science and Technology – Advanced Science and Technology Institute (DOST-ASTI), in partnership with the Philippine Network Operators' Group (PhNOG), and Trans-Eurasia Information Network (TEIN) Network Cooperation Center (TEIN*CC) will be conducting a one (1)-day Conference with the theme '"All over IP' (AoIP) – touching the different facets of Internet, entwined to our daily lives" on 25 January 2016 at the Marriott Grand Ballroom, Marriott Hotel Manila, Pasay City, Metro Manila.
| | | |
| --- | --- | --- |
| 1100 | Big Data Analytics Applied in Network Operations | Wilson Chua |
| 1130 | IXP Next steps (advantages and disadvantages) | Daishi Shima/BBIX |
| 1200 | Lunch break | |
| 130 | Management and Sustainability of the IXP – taking it to the next level – Global Examples / DNSSEC | Jane Coffin/ISOC, Kevin Meynell/ISOC |
| 200 | Internet enabled businesses (challenges/milestones) | Rhett Jones/Rise |
| 230 | CDNs and Internet traffic Analystics | Kam-Sze Yeung/Akamai |
| 300 | Role of a Peering Manager | Jake Chin/Google |
| 330 | Break time | |
| 400 | Network Security | Mon Nunez |
| 430 | Internet BCPs | Amante Alvaran/Brocade |
| 500 | Evolution of the Network Engineer Job Role | Ceejay Dideles |
| 530 | IOT | Benjie Tan |
| 600 | Closing | |
Said activity aims to gather participants from the R&D and IT/ICT communities together with the current PhNOG members to discuss the opportunities that can be derived from joining and using the TEIN Network. TEIN is a high speed international research network which provides access to researchers and research institutions within participating countries in Asia and Europe. Through TEIN, international joint research projects pertaining to climate change, remote medical service, remote cultural performances, agriculture, and information technology have been conducted. Local and foreign experts will also share their knowledge and experiences that will enable the continuous development of the Philippine Internet.
On the other hand, Philippines Network Operators Group (PHNOG) is a nonprofit organization established to promote coordination among Network Operators in Philippines. Focus is given to knowledge development of all members as well as the Philippines IT community as a whole through discussions on technical issues/concerns regarding the Internet and network management.
In line with this, we would like to invite you as one of the participants in this one (1)-day activity. Registration for this activity is free. Please take note that the activity only offers limited slots, which will be granted on a first come, first served basis. Deadline for registration is on 15 January 2016. To reserve your seat, kindly register at this link: https://www.apan41manila.com/events/register/xphilippine-network-operators-group-conferenc
Should you have any clarifications, please feel free to contact Mitz Ann N. Montañez at mitz@asti.dost.gov.ph or Marie Antoinette F. Bangabang at meiann@asti.dost.gov.ph. You may also call +63 2 4269760 loc. 1603 / loc.1408.
– See more at: http://www.bnshosting.net/#sthash.plX0krt8.dpuf