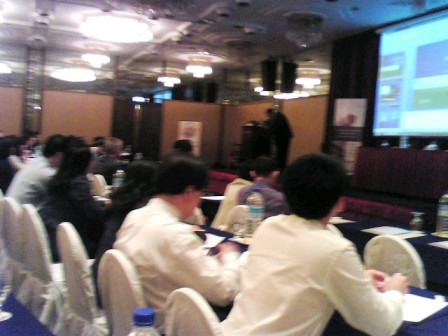 The photo above was at the Call Center Benchmark 2008 affair that was conducted by callcenter.net and organized by the Call Center Association of Singapore (CCAS).  The presenters were able to share with the audience some of the key results of their survey and best practices.
One of the most common problems faced by Call center operators was centered mainly around staff recruitment, training and retention. Also, some key performance metrics were also shared in the industry with Singapore having the highest salary paid to call center agents.
The event was also for networking and socializing. I was seated besides Bernard Chia and Darius Ng of Innovax Systems. They do CTI integration with on premise and hosted solutions. Priscilla of CCAS introduced me to Ms Pauline Low, head contact center of NTUC Income, (which was judged one of the best call centers in Singapore).
I met up with Mr Dennis Calvin Tan of IVIC International. Calvin operates a call center facility out in Tampines for 500 seats.  Also present was Ms Estrellita Ong of Abacus Investments. Their company runs a 70 seat call center in Singapore.
Among the sponsors, I got to talk to Mr Don Lee of Autonomy E-Talk, who had this incredible QA software system. It promises to be able to do full recording of not only voice sessions, but also email and chat sesssions. It includes some sentiment and speech analyzers that will help in QA process.
Ms Margaret Kok , sales and Marketing manager at Vanco Pte was also kind enough to advise me on the latest Plantronics corded and cordless headsets. I was invited to visit their showroom and try out some of the new models for our philippine call center.